10% Off Sandymount Hotel Gift Vouchers
For a Limited Time Only
Sandymount Hotel, Dublin 4 is offering  10% off Gift Vouchers between 1st - 15th February 2021.
Gift Vouchers can be redeemed against Accommodation and Dining in Whitty's Restaurant & Garden Terrace or Line Out Bar.
Gift Vouchers are valid for 5 years.
Did You Know?
Current owner of Sandymount Hotel, John Loughran met his wife Audrey at the hotel in 1975. Audrey was interviewed by John's parents and secured a role on the reception team. John and Audrey became official in 1976 after dating secretly for 6 months. They married in Monkstown Church in September 1980 and celebrated 40 years of marriage in 2020. They have 4 children, Lorraine, Gerard, Oisin and Sinead, all of whom have worked in the hotel. Gerard is currently a Director at the hotel.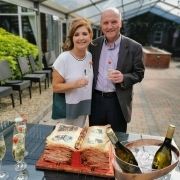 Sandymount Hotel an
Independent Family run Hotel in Dublin 4