Europe's Leading Green Hotel
Sandymount Hotel won Energia Sustainable Family Business of the Year 2021
The Energia Family Business Awards kicked off on the 18th of October 2021.  To be awarded this award and be recognised as Energia Sustainable Family Businness of the Year means a great deal to us at Sandymount Hotel. The theme of this years award is 'resilience through generations', making it all the more special as Director Gerard Loughran's grandfather set up the hotel over 66 years ago and the hotel is now run by father & son duo, John & Gerard Loughran. 
The Gold Medal Awards 
Sandymount Hotel was a finalist  for Ireland's Leading Green Hotel at the Gold Medal Awards 2021 which took place on the 22nd of March at The Lyrath Estate, Kilkenny.  This particular award is sponsored by Flogas.  The awards are run by the Hotel and Catering Review and recognise excellence in hospitality across all of Ireland.
The World Travel Awards 
Sandymount Hotel, Dublin's largest family-run hotel, has retained the top accolade as 'Europe's Leading Green Hotel', scooping the award for the third year running at the prestigious World Travel Awards.
Triple award-winning Sandymount Hotel, famed for its sustainable hotel practices, beat stiff competition from some of the world's most renowned hotels including ICE Hotel in Sweden, Vila Vita Parc in Portugal, Eagles Palace in Greece and Angel's Marmaris, Turkey, to put Ireland firmly on the international map, setting award-winning standards for environmental friendly hotels worldwide.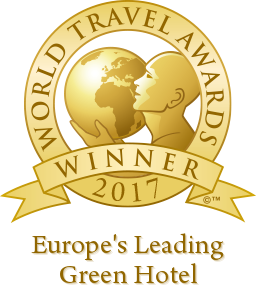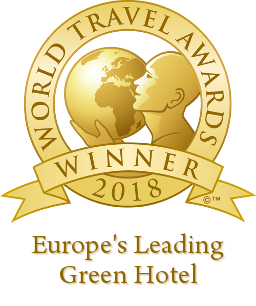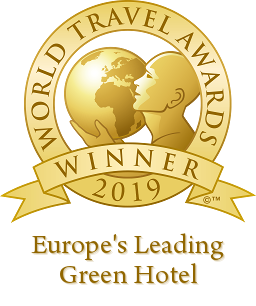 Renowned as the "Oscars" of the travel industry, the World Travel Awards recognise leaders across all sectors of the global travel and tourism industry.
"The team at Sandymount Hotel is delighted to scoop the award for 'Europe's Leading Green Hotel' for the third year running. We've come a long way since we first became more environmentally aware and year on year, we have progressed our sustainable approaches to ensure that we are consistently improving and minimising any negative effect our procedures and systems have on the environment. Our dedicated in-house 'green' team has been tremendous, researching and instilling new measures to offer our best environmentally friendly practices, in line with our overall guest offerings and experiences. In an age where the environment has truly become an emotive topic, green travel is on the rise with travelers inspired to choose eco-friendly travel options as they think more about conservation and sustainability. We are honoured to play our part in protecting the Earth, whilst also offering an exceptional hospitality experience. We would also like to congratulate our friends at EPIC for their fantastic 'Europe's Leading Tourist Attraction' win. A great night for the Irish hospitality and tourism industry as we celebrated our success on an international stage." John Loughran, Owner of Sandymount Hotel
Europe's Leading Green Hotel 2019 PRESS RELEASE
Europe's Leading Green Hotel 2019 Winner Certificate
In the News: Pol O'Conghaile, Independent.ie
Europe's Leading Green Hotel 2018 PRESS RELEASE
Europe's Leading Green Hotel 2018 Winner Certificate
Sandymount Hotel Green Facts 
To learn more about the Green Policies and Facts at Sandymount Hotel please visit our Environment page.